50 Yard dump Trailer
Motor Graders for Sale







For sale is a 50-yard dump trailer featuring a steel body.
Sturdier than the common aluminum bodies, this trailer for
sale is enclosed on the sides and open on the top. The setup
makes it ideal for hauling loose construction site debris,
building materials and heavy scrap metal. Add a tarp to the
top for safety when driving during windy weather conditions.

End dump trailers are common sights on a wide variety of
construction job sites. Examples include housing
developments, commercial building sites, road construction
sites and municipal building projects. Although some
construction companies will rent end dump trailers, going
this route puts you at a distinct disadvantage. The 30-yard
dump trailer is the right size to fit onto smaller job sites
where navigation of larger rigs can be tricky.
the added expense.

t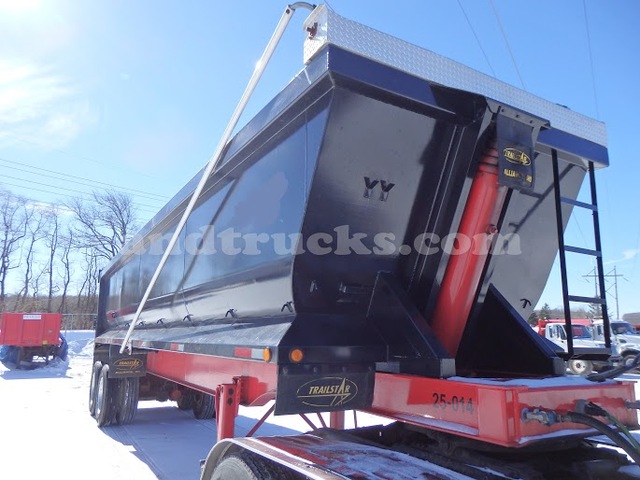 2006 Trailstar 50-Yard Steel Dump Trailer for sale

Vin # 1T9DS34B661066137
capacity: 30 yrds
suspension: Single Point Spring
GVW: 80,000lb
Axles: 20,000lb / 20,000lb
Body: Steel


Trailer for sale

At the same time, it is sufficiently large to haul a substantial
amount of payload. When you choose to rent rather than buy
a trailer for sale, you are at the mercy of the rental yard's
inventory. When there is only a smaller or larger rig
available, you may find that you have to schedule additional
runs or employ added machinery to load the trailer. The 2006
Trailstar 50-yard steel dump trailer is the right size for all your needs.

Attach it to a Pete or other truck capable of hauling high-
capacity loads. Since the Trailstar has a gross vehicle weight
rating (GVWR) of 80,000 pounds, your truck needs to be able
to haul at least this much weight. The weight distribution
calls for 20,000 pounds per axle. Consider a tow vehicle that
is equipped with a wet kit for enhanced hydraulics when
emptying the dump trailer.